Pistachios

Pistachios
Description

The pistachio is a small tree originally from Central Asia and the Middle East. It grows no taller than six to ten meters. Pistachio trees are fairly tough trees which can survive temperatures ranging between minus ten and forty-eight degrees Celsius. For proper ripening of the fruit however, long, hot summers are required. The tree does not bear fruit until the fifth year and only reaches a good performance after the tenth. The male and female flowers are in different trees. They open in April-May and they bare a fruit with a single seed.

The fruit of the pistachio tree is a small, dry nut with a hard, thin and clear brown shell, called the pericarp. The edible part, known as the seed or the almond, is green-yellowish of colour. The pistachio seed is elongated, slightly triangular, two to three centimetres long, tender and oily. The size and colour of the nuts may differ per variety.

Pistachios are a nutritious dry fruit with a fat content between thirty and fifty per cent. They form an important source of protein, fats, and minerals and are a rich source of energy; 100 grams of pistachios provide 557 calories. In addition, they are rich in mono-unsaturated fatty acids like oleic acid and an excellent source of antioxidants.

Pistachios are often consumed salted or roasted and with shell, as a snack. The raw nut is also used as an ingredient for many dishes, in confectionery and cooked pork meats or ice creams. Pistachios may also be pressed into a very sweet oil. They are even applied as an ingredient for some medicines with digestive purposes and in cosmetics.
Varieties
There are quite a few different varieties of pistachios. Generally, the Iranian and American pistachios differ slightly in appearance, the Americans being smoother and lighter in colour, which gives them a nice and clean appearance. This is partly due to the fast and efficient American method of processing. The Iranian product is greener, caused by sun drying. The Turkish varieties are smaller, with a shell verging on light green. The actual kernels are very similar to the American an Iranian kernels. All pistachios are greenish outside and yellowish inside.
Abiad miwahi: Pistachio nut of average size, white colour and excellent quality. Cultivated in Turkey.
Achouri: Cultivated in Syria, the Achouri is a pistachio nut of average size, red colour and excellent quality.
Batouri: Thick fruit of whitish colour and good quality. Important cultivar in Syria.
Kerman: The Kerman is a female pistachio of great size and good quality. Originating from Iran, it was introduced in the U.S.A. and it is also cultivated in Spain (in Castilla-La Mancha).
Kouchka: Quite thick pistachio, cream white colour and good quality.
Larnaka: Average size pistachio, slightly smaller than Mateur. Originally from Cyprus, it also gives good results in Greece and in Spain.
Mateur: Long fruit, average size, yellow greenish colour and good taste quality. It was selected in Tunis and also gives good results in Spain. In Castilla-La Mancha it ripens at the end of August.
Peter: Selected in California, the Peter is used as a male cultivar for Kerman. It has a good polen production and they partly coincide during the flowering period.
Sefideh-Montaz and Imperiale de Dameghan: The fruit of these varieties is round, thick and yellowish. Very appreciated in Iran.
Uzun and Kirmizi: Both cultivated in Turkey and of average size. The Uzun is clear green of colour, the Kirmizi reddish.
Sizes
California: Kermangrade
Colossal (jumbo): 18 or less per ounce
Extra Large: 18/20 per ounce
Large: 21/25 per ounce
Medium: 26/30 per ounce
Small: 30 plus per ounce
Other countries, Iran being the most important of which, distinguish Round type and Long type. There is also a variety of a large pistachio named Jumbo.
Jumbo Type:
18/20 per ounce
20/22 per ounce
22/24 per ounce
24/26 per ounce
Round
26/28 per ounce
28/30 per ounce
30/32 per ounce
Long type
20/22 per ounce
22/24 per ounce
24/26 per ounce
26/28 per ounce
28/30 per ounce
Shelled pistachios:
AAA: 95% whole 5% half
AA: 90% whole 10% half
A: 85% whole 15% half
C: 70% whole 30% half
Processed
In shell: raw, open or closed, roasted, salted or unsalted.
Kernel: complete or sliced.
Request price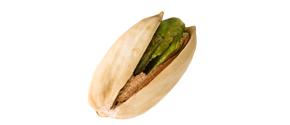 Nutrients
| | | |
| --- | --- | --- |
| Proximates | Units | |
| Energy | kcal | 567 |
| Protein | g | 20,95 |
| Carbohydrate | g | 29,38 |
| Fiber | g | 9,9 |
| Lipids | | |
| Total fat | g | 44,82 |
| Saturated fat | g | 5,456 |
| Monounsaturated fat | g | 23,676 |
| Polyunsaturated fat | g | 13,448 |
| Cholesterol | mg | 0 |
| Minerals | | |
| Calcium | mg | 107 |
| Iron | mg | 4,03 |
| Magnesium | mg | 109 |
| Phosphorus | mg | 469 |
| Potassium | mg | 1007 |
| Sodium | mg | 6 |
| Selenium | mcg | 10 |
| Vitamins | | |
| Vitamin A | IU | 259 |
| Vitamin B6 | mg | 1,122 |
| Vitamin C | mg | 3 |
| Vitamin E | mg | 2,42 |
| Vitamin K | mcg | 13,2 |
| Carotene, beta | mcg | 156 |
| Carotene, alpha | mcg | 0 |
| Cryptoxanthin, beta | mcg | 0 |
| Lutein + zeanxanthin | mcg | 1160 |
* Pistachios are dry roasted without salt
"Source: USDA National Nutrient Database
for Standard Reference, Release 26 (2013)"
g = gram; mg = miligram ; mcg = microgram; IU = International Units
Origins
Pistachios are mainly grown in USA, Iran, Turkey, Afghanistan, Syria and China.
Crop
| | Jan | Feb | Mar | Apr | May | Jun | Jul | Aug | Sep | Oct | Nov | Dec |
| --- | --- | --- | --- | --- | --- | --- | --- | --- | --- | --- | --- | --- |
| Northern | | | | | | | | | | | | |
| Southern | | | | | | | | | | | | |