Papaya

Papaya
Description

The papaya is a large, tree-like plant, with a single stem growing five to ten metres tall. It's spirally arranged leaves only grow at the top of the trunk. In cultivation, the papaya grows rapidly, fruiting within three years. It is highly frost-sensitive, limiting its production to tropical climates. It also prefers sandy, well-drained soil, as standing water will kill the plant within 24 hours.

Near the top end of their trunks, papaya trees bear many spherical fruits. They vary in size from fifteen to fifty centimetres in length and ten to thirty centimetres in diameter. An average-sized papaya weighs about half a kilo. The ripe fruits are soft like avocados and have amber to orange skin.

Inside, the fruit features black peppercorn like seeds in a central cavity, much like melons. The flesh is orange in colour with either yellow or pink hues, soft in consistency and with a sweet, musky, melon-like taste. Papayas are often sliced and eaten separately or served with a myriad of other foods. They can also be cooked to make chutney or various desserts.

The papaya fruit is very low in calories and contains no cholesterol; however, it is a rich source of phytonutrients, minerals, and vitamins. Due to a good amount of soluble dietary fibres, it helps to have normal bowel movements; thereby reducing constipation problems. Papaya seeds have been proven natural remedy for many ailments in the traditional medicines. The seeds can be found application as anti-inflammatory, anti-parasitic, and analgesic, and used to treat stomach ache and ringworm infections.
Varieties
There are two types of papayas: Hawaiian and Mexican. The Hawaiian varieties are most common. They are easier to harvest because the plants seldom grow taller than 2,5 metres. Like the trees they grow on, Mexican papayas are much larger the Hawaiian types. They may weigh up to ten times as much.
Request price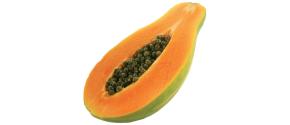 Nutrients
Proximates
Units
Energy
kcal
43
Protein
g
0,47
Carbohydrate
g
10,82
Fiber
g
1,7
Lipids
Total fat
g
0,26
Saturated fat
g
0,081
Monounsaturated fat
g
0,072
Polyunsaturated fat
g
0,058
Cholesterol
mg
0
Minerals
Calcium
mg
20
Iron
mg
0,25
Magnesium
mg
21
Phosphorus
mg
10
Potassium
mg
182
Sodium
mg
8
Zinc
mg
0,08
Vitamins
Vitamin A
IU
950
Vitamin A, RAE
mcg
47
Vitamin B-6
mg
0,038
Vitamin C
mg
60,9
Vitamin E
mg
0,30
Vitamin K
mcg
2,6
Thiamin
mg
0,023
Riboflavin
mg
0,027
Niacin

mg
0,357
Folate, DFE
mcg
37
* Papayas are raw. "Source: USDA National Nutrient Database
for Standard Reference, Release 27 (2015)"
g = gram; mg = miligram ; mcg = microgram; IU = International Units
Origins
Originally from southern Mexico (particularly Chiapas and Veracruz), Central America, and northern South America, papaya are now cultivated in most tropical countries. India and Brazil are the major producers of papaya, together providing over half of the worldwide production.
Crop
| | Jan | Feb | Mar | Apr | May | Jun | Jul | Aug | Sep | Oct | Nov | Dec |
| --- | --- | --- | --- | --- | --- | --- | --- | --- | --- | --- | --- | --- |
| Northern | | | | | | | | | | | | |
| Southern | | | | | | | | | | | | |