Pineapple
Description

The pineapple is a tropical plant that usually grows 1 to 1.5 meters tall, although sometimes it can be taller. Scientifically, it is known as Ananas comosus which is why the fruit is referred to as ananas in almost every language but English. The plant has a short, stocky stem with tough leaves. It grows up to two hundred flowers, which together grow into one fruit that sits on top of the plant itself.

The pineapple fruit is rough and scaly on the outside. Inside, it consists of many small fruitlets fused together around a central stem. Its pulp is juicy and fleshy with a white to yellow colour. Pineapples measure up to thirty centimetres in length and weigh over three kilograms.

Pineapples can be consumed fresh, cooked, juiced, dried and preserved, and are found in a wide array of cuisines. It is one of the few fruits that is available all year, without losing its taste.

Fresh pineapple is low in calories. It is a storehouse for several unique health promoting compounds, minerals and vitamins that are essential for optimum health. Pineapple fruit contains a proteolytic enzyme bromelain that digests food by breaking down protein. Bromelain also has anti-inflammatory, anti-clotting and anti-cancer properties.
Varieties
There are many different cultivars. Among the best known are the following.
Hilo: a compact 1–1.5 kg Hawaiian variant of smooth cayenne
Kona sugarloaf: 2.5–3 kg white flesh with no woodiness in the centre.
Natal queen: 1–1.5 kg golden yellow flesh and delicate mild flavour, well suited for fresh consumption.
Pernambuco: 1–2 kg excellent for eating fresh, but poorly adapted for shipping, grown in Latin America.
Red Spanish: 1–2 kg well-adapted for long distance shipping, grown in Latin America.
Smooth cayenne: 2.5–3 kg well-adapted to canning and processing.
Request price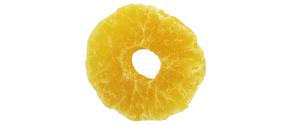 Nutrients
Proximates
Units
Energy
kcal
50
Protein
g
0,54
Carbohydrate
g
13,12
Fiber
g
1,4
Lipids
Total fat
g
0,12
Saturated fat
g
0,009
Monounsaturated fat
g
0,013
Polyunsaturated fat
g
0,040
Cholesterol
mg
0
Minerals
Calcium
mg
13
Iron
mg
0,29
Magnesium
mg
12
Phosphorus
mg
8
Potassium
mg
109
Sodium
mg
1
Zinc
mg
0,12
Vitamins
Vitamin A
IU
58
Vitamin A, RAE
mcg
3
Vitamin B-6
mg
0,112
Vitamin C
mg
47,8
Vitamin E
mg
0,02
Vitamin K
mcg
0,7
Thiamin
mg
0,079
Riboflavin
mg
0,032
Niacin
mg
0,500
Folate, DFE
mcg
18
* Pineapples are raw, all varieties. "Source: USDA National Nutrient Database
for Standard Reference, Release 27 (2015)"
g = gram; mg = miligram ; mcg = microgram; IU = International Units
Origins
The world production is dominated by Southeast Asia and Latin America.
Crop
| | Jan | Feb | Mar | Apr | May | Jun | Jul | Aug | Sep | Oct | Nov | Dec |
| --- | --- | --- | --- | --- | --- | --- | --- | --- | --- | --- | --- | --- |
| Northern | | | | | | | | | | | | |
| Southern | | | | | | | | | | | | |